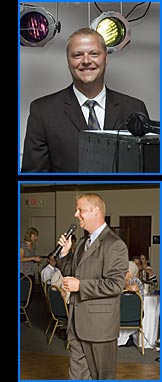 Because the quality of your entertainment determines the success of your event…
Kevin Head Entertainment has been in the business for over 18 years, serving the Williamsport and surrounding regions. We are dedicated to quality, professionalism, creativity and reliability. We have a genuine desire to make your event a wonderful experience. No matter what size or type of party, we promise professional, experienced, on time, enthusiastic and customized service with professional equipment.
We are constantly improving and expanding our sound system, light show and effects, and our music library in order to always have all the latest hits. We take our profession seriously. Every event is important no matter how small or low key. We can provide you with the perfect music on your special day because we customize it according to YOUR TASTE. And you always get entertainment the way you like it, because we listen to YOU. We need to know what kind of service you are looking for. If the mood is of Classic Elegance or of a High Energy Party, we have the experience to create that atmosphere. This is YOUR event and WE ARE AT YOUR SERVICE.
We hope you'll find the information you need on this site about our company and the products and services we provide. We look forward to working with you.